LONG SPAN ROOF (RIB ROOF)

Long span roof is a roll formed roof made from hot-dip galvanized cold rolled mild steel. The housing industry standard roofing profile, this covers a larger area compared to its corrugated ancestor. This is the most popular and inexpensive choice for your roof, sectioning or fencing needs. Commonly called Long Span because it has the longest (widest) coverage; sometimes called Rib because it has rows of raised lines. In this age where tools are easily accessible, machines are easily rent-able, and roof-men are more skilled? Opting for this design will decrease material cost without increasing labor cost.
---
ACTUAL PICTURES

LONG SPAN ROOF PRICE CHART

To calculate the price, multiply your required length to the prices above. To know more about material origin

click here.

You may always call us for help.
---
LONG SPAN ROOF SPECIFICATIONS
Roof length will depend on your request, while width is shown in the illustration below. Total width is 1110 mm or 43 7/10 inches, but its effective width upon installation is 1050 41 11/32 inches.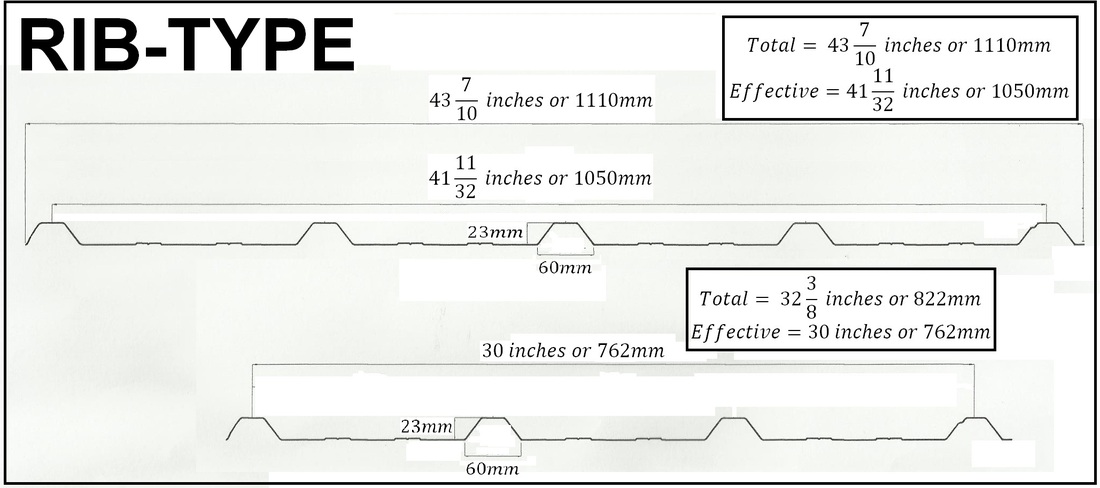 LONG SPAN (RIB) ROOF COLORS
RED
GREEN

BLUE

BROWN

TERACOTA

BEIGE

WHITE

TEAL
WHY LONG SPAN ROOF (RIB ROOF)?

​Inexpensive -

Long span will cover the most surface area out of all roof designs. It has minimal rib sections on the surface to keep the metal's flat surface when installed.

Versatility -

Long span could be used as walls and sectioning for spacious buildings because they typically do not require the walls to support the building. Unlike smaller structures which are supported by walls, bigger structures is held by columns and supports.

Malleable (Cons) -

Long span will bend under load or stress.

Columns and supports will support the building, please do not attach any furniture or appliance to the metal roof.
HOUSES WITH LONG SPAN ROOF (RIB ROOF)